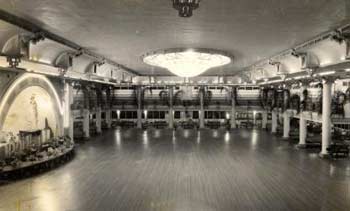 Cloudland Ballroom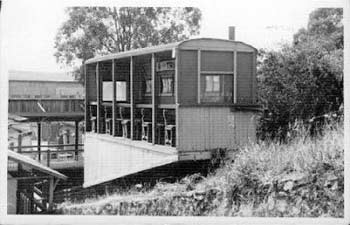 Cloudland Alpine Railway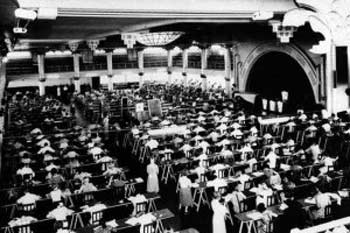 Final exams - Cloudland Ballroom in 1964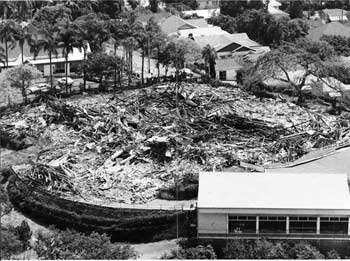 Remains of Brisbane's Cloudland Ballroom which was demolished without a permit in the early hours of the morning of December 17, 1982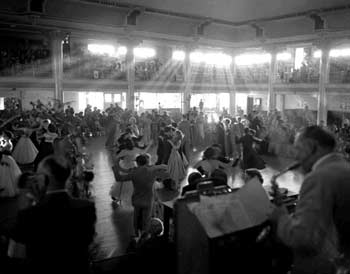 A moment in time music movement and the post war spirit is captured at a ballroom dancing festival in 1952 at Cloudland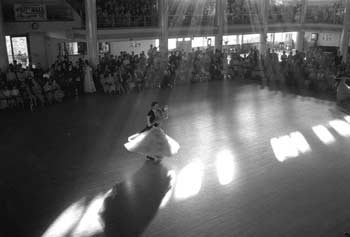 Ballroom Dancing Festival in 1952 at Cloudland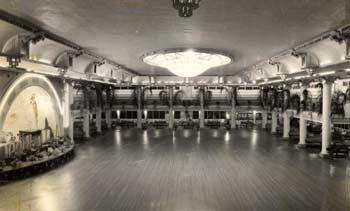 Cloudland Ballroom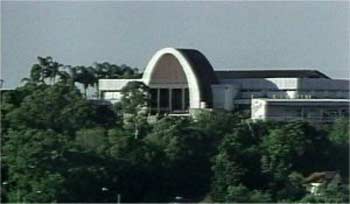 Cloudland
Cloudland, originally called "Luna Park", was constructed in 1939-40, and opened in 1940, along with an "alpine railway" constructed to take patrons up the hill to the venue.

The rollercoaster at Luna Park was destroyed before the fair grounds were opened.

When Cloudland was re-opened after the war, the name Luna Park was dropped and the building was thenceforth known as Cloudland Ballroom.

The funicular was dismantled in 1967 and the area was turned into a car park.

"Cloudland Dance Hall" at the time, builders declared, with its private alcoves, upholstered seating, dressing rooms, and perfect ventilation... the ballroom will be the finest of its kind in Australia.

It was no exaggeration, and Cloudland was without doubt one of the best dance and concert venues in the country.

The venue was a classic World War II structure. Inside it had hard timber floors, decorative columns, sweeping curtains, domed skylights and chandeliers.

- check out more about Cloudland durning the war

Cloudland also had an upper circle of tiered seating which overlooked the floor and stage.

On a commanding hilltop site in the Bowen Hills above Brisbane, Cloudland's distinctive parabolic laminated roof arch, nearly 18 meters high, was visible for miles, and was illuminated at night.

Inside, as the photo clearly shows, it was famed for elegant decoration and its sprung dance floor, reputed to be the best in Australia.

Cloudland was significant as a landmark, and as a place where generations of Brisbane residents went for entertainment.

As a pop/rock music venue, it hosted thousands of dances and concerts in the 50s, 60s and 70s, including some quite famous events.

Cloudland hosted three of the six concerts performed by rock'n'roll legend Buddy Holly on his only Australian tour in February 1958.

In the seventies, ballroom dancing became unpopular and "filthy rock concerts" were the only thing to adorn Cloudland's floor.

Cloudland was also used as an exam venue by the University of Queensland.

Despite strenuous public calls for its preservation, the building was demolished overnight on 7 November 1982 by the Deen Brothers, a 'no-questions-asked' outfit favored by the state government and Brisbane City Council for such controversial demolition jobs.

Midnight Oil, who had played at Cloudland many times, immortalised the demolition in their song Dreamworld "Cloudland into Dreamworld Falls. Sun comes up and we all learn, those wheels must turn" (from the Diesel and Dust LP).
---
(Song Lyrics) by Tim Kelly 2002

Well I was just fourteen
Innocent and a little green
But from innocence we all must fall
Me, I landed on a sprung dance floor
The whole room was swaying
And the Sports were playing
"Strangers on a Train"
I learnt to stand
In a place called Cloudland

They'd catch a tram from Adelaide Street
And with their brothel creepers on the seat
They'd head for the blue-lit arch
And try to sneak their gin passed
And they were always letting
"Golden Wedding"
carry them away
Billo Smith led the band
Every night at Cloudland

We Rise, We fall
We used to have a ball
She was too pretty
For such an ugly city
Unsound, unseen
Thanks to the brothers Deen
I lost my thrill
Up on Cintra Hill

Well they came at four a.m.
So nobody could bother them
No not even City Hall
Could stop that wrecking Ball
And all they left behind
Was an empty skyline
Oh and the memories
Town houses now stand
In this place called Cloudland
---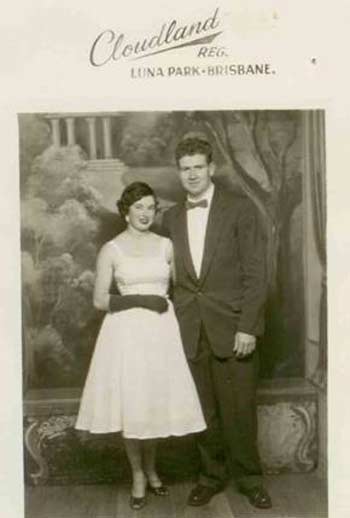 Marie & Trevor at Cloudland CLOUDLAND LUNA PARK BALLROOM - 1956. Marie actually met her husband to be Trevor at 'Cloudland' Ballroom in 1956. (Pictured above) In 1997, they couldn't keep away from their beginnings and purchased one of the penthouse's in 'Cumulus' The residential complex built on the Cloudland grounds, having done the full circle so to speak... Ironically, the first night of their honeymoon was spent at the Bellevue Hotel - demolished by the Dean Brothers (now Marriott) as was 'Cloudland' Ballroom. Cloudland entrance.